Love and War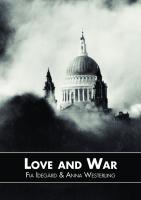 Teilnehmer: 4 Spieler
Von
Herunterladen
Beschreibung
Set during WW2, this scenario is like living through a BBC drama. Follow the lives of four young friends, who battle with relationships and everyday hardships, while doing their bit for England.

This scenario will be like living through a six episodes long BBC drama, about ordinary young people in England during the Second World War. It is about relationships, drama, and everyday hardships in the shadow of the war.

The scenario follows four close friends – the happy-go-lucky soldier Charlie, the caring Jane, involved in saving London from the Blitz, the energetic Dottie, bound for service in the Air Force, and the introverted fighter pilot Will. We follow their lives, love, and relationships as they develop during the six year long war.

This is high drama with lots of emotions, from the passion of first love, to the deepest despair of war, and all the different shades in between. Even with war rumbling in the background life still goes on.

You don't need to know anything about the Second World War, London, or England to play the game.

Additional information:

The scenario is made out of 5 episodes and like any tv-show they can be played all in one go, or spread out and played over time with one hour per episode.
Hier gespielt worden
Preise
Gewinner, Bedste Fortælling
[+]
Nominiert, Bedste Formidling
[+]
Nominiert, Bedste Roller
[+]
Nominiert, Bedste Scenarie
[+]
Korrektionen für diese Seite einschicken