Dear Lucy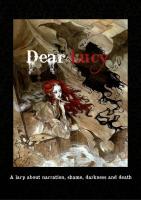 System: Blackbox larp
Deltagare: 1 SL, 4-7 spelare
Av
Beskrivning
Dear Lucy is an epistolar larp.
It revolves around Lucy Westenra, seen through the eyes of those that knew her, while they witness her transformation from a bright young thing into a bloodthirsty, undead being. Through the larp, her dearest ones narrate with the help of letters each step of her vampiric transformation and finally discuss if they will be brave enough to put a stop to her unlife.

The main inspiration is the novel "Dracula" by Bram Stoker, published on 1897. Together with other influences like the film by Coppola (1993), "Nosferatu" by Murnau (1922) or "Carmilla" by Sheridan Le Fanu (1872).

The larp focuses on Lucy, the only character in the novel that experiments a complete transformation. Also, the forgotten one in later adaptations.
Spelat på
Andra speltillfällen
28 april 2018, Encuentro Nacional de Crónicas Nocturnas, Alcalá de Henares, Spanien

Skicka in rättelser om den här sidan