50 Clues: De dødes pendul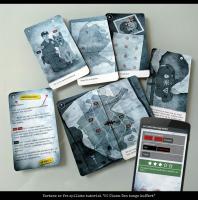 (aka: 50 Clues: Pendulum of the Dead)
Av
Beskrivning
50 Clues er tilbage med tre nye eventyr/escape/gådespil, hvor I gennemlever Marias dramatiske flugt fra en retspsykiatrisk afdeling i en nøje udtænkt plan, som hun har svært ved at huske. Hvem forfølger hende, og har hun det, der skal til?

Tiden er inde til at flygte fra retspsykiatrisk afdeling. Maria har forberedt alt ned til mindste detalje, men medicinen gør det svært for hende at huske planen. Hun må ud at redde sin søn, inden den onde vender tilbage.

Under flugten indtager I rollen som Maria og hjælper hende med at forstå og udføre planen. I kan ikke tabe spillet, men det kræver snilde og logisk tænkning at opnå et flot resultat.

50 Clues består i år af tre episoder, som hver indeholder et sæt kort med historien og gåderne. En web-app hjælper jer med at holde styr på spillet. Det er her, I indtaster koder, kombinerer spor og henter hjælp undervejs. Web-app'en kræver ingen installation.

Hvis du kan lide escape rooms, krimihistorier og kryptiske gåder, så er 50 Clues noget for dig.

Se en kort video og start selv
Det kræver ingen forkundskaber eller læsning af regelbøger at spille 50 Clues. I starter med at se en kort video af forhistorien. Den demonstrerer, hvordan spillet foregår. Derefter er det bare at gå i gang. I er derfor også velkommen til at spille 50 Clues uden for de officielle programblokke.
50 Clues is back with three new adventure/escape/riddle games, where you experience Mary's dramatic escape from a psychiatric ward in a carefully thought out plan that she has difficulty remembering. Who pursues her, and does she have what it takes?

The time has come to escape from the psychiatric ward. Mary has prepared everything down to the smallest detail, but the medicine makes it difficult for her to remember the plan. She must get out and save her son before the evil one returns.
During the flight, you assume the role of Mary and help her comprehend and execute the plan. You can't lose the game, but it requires creativity and logical thinking to achieve a premium result.
This year 50 Clues consists of three episodes, each containing a set of cards with the story and the riddles. A web app keeps track of the game. This is where you enter codes, combine leads and get hints along the way. The web app requires no installation.
If you like escape rooms, spooky crime stories and cryptic puzzles, then 50 Clues is for you.

Watch a short video and start playing
It does not require any prior knowledge or rule reading to play 50 Clues. You start by watching a short video of the prologue. It demonstrates how the game is played. Then you are ready. So, feel free to play 50 Clues outside the official program.
More information:
www.facebook.com/50clues

About Jeppe Norsker:
Jeppe loves both roleplaying and board games. He holds a Master of Architecture and creates learning games for educational institutions and the private sector. Jeppe is also the inventor of Match Madness, Shadow Blocks and a couple of board games that are being released in the near future. Pendulum of the Dead is Jeppe's sixth contribution to the board game competition, which he won in 2013. He plans to publish the 50 Clues series later this year.
Spelat på
Länkar
Skicka in rättelser om den här sidan