Sølvnøglens døre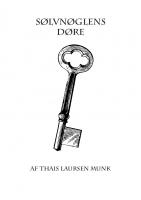 (aka: Doors of the Silver Key)
Genre: Drama, Gyser
Deltagare: 1 SL, 5 spelare
Av
Ladda ned
Beskrivning
"Vi var kultister. Vi var med til at tilbede Væsner fra det Hensides. Vi brugte vores indsigt og viden til at forråde vores kult og forhindre dens planer. Hvis vi skal overleve er der et sted vi kan tage hen: Drømmenes Verden. Vi kommer til at betale en høj pris, men måske kan vi overleve på den måde?"

Sølvnøglens Døre handler om 5 tidligere kultister i en lovecraftiansk kult, der har forrådt deres kult. De stak af med stjålen okkult litteratur og blev forfulgt af kulten igennem Europa. Nu sidder de og gemmer sig på et øde gods langt ude på landet i Vestskotland og forbereder sig på deres tur ind i Drømmenes Verden. En både skrækkelig og vidunderlig verden, formet af magtfulde Drømmere. Der kan de finde våben og allierede, men det kommer til at have en stor en pris. Det er heller ikke sikkert at de overlever.

Udover kulten har de 5 spilpersoner en fortid sammen. Deres gamle følelser overfor hinanden kommer også til at spille en rolle undervejs imens desperationen stiger og Drømmenes Verden krævet dets pris af deres sindsro.
"We were cultists. We were a part of the worship of Entities from Beyond. We used our insight and knowledge to betray our cult and stop their plans. If we have to survive, there is only one place we can go: The Dreamlands. We will pay a high price, but maybe we can actually survive\"

Doors of the Silver Key is about 5 ex-cultists in a lovecraftian cult who have betrayed their former organisation. They escaped with stolen occult literature and was pursued by the cult through Europe. Now they are hiding out in an old manor in the remote countryside of Western Scotland and preparing for their trip into the Dreamlands. A both terrifying and wonderful world, formed by powerful Dreamers. They will be able to find weapons and allies, but it will come at a grave cost. No matter what, their survival is by no means certain.

Besides the cult, the five player characters have a common past. Their old relationships to each other will also play a part while the desperation sets in and the Dreamlands takes its toll on their sanity.
Spelat på
Trivia
Annonceret som spiltest på DefCon 2
Skicka in rättelser om den här sidan