Maja vil dø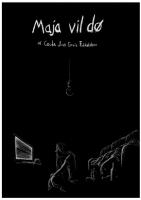 (aka: Killing Me Softly)
Genre: Drama, Novellescenarie
Deltagare: 1 SL, 4 spelare
Av
Ladda ned
Beskrivning
"Jeg er bare så træt.
Så uendeligt træt ... og jeg er træt at af være træt.

Jeg har ikke mere at give af.

Jeg vil bare gerne have fred. Fred for det hele.

Jeg er ked af at det er kommet så vidt, men det stopper nu.

Der er alligevel ikke noget tilbage der giver mening.

Tilgiv mig,

Maja"

Maja sidder i stuen med øjnene stift rettet mod tv'et. Forsøger at lukke alt andet ude. Stirrer frem for sig og prøver at fordybe sig i serien på skærmen. Mor ligger på sofaen. Rødvinsflaskerne står spredte om hende og afgiver en alt for velkendt lugt. Maja synes det afgiver en kvalm lugt af svigt og mismod.

Mor rører på sig, og Maja beder i sit stille sind om, at hun ikke vil vågne. Ikke vil råbe. Ikke vil stille krav og spørgsmål. Ikke som i går … eller som dagen før. I morgen er atter en dag. En dag, hvor der aldrig bliver talt om de ting, der sker.

Maja vil dø er et scenarie om en ung kvindes livshistorie og den indre og ydre kamp mod en konstant overmagt. Scenariet følger Maja gennem punktnedslag i hendes liv i rejsen mod et skæbnesvangert punkt, hvor en spiller har rollen som Maja, og de andre tager rollerne Tvivl, Skyld og Skam. Rejsen lader Maja mere og mere omklamret af sine tanker og de tre følelser, der aldrig tillader hende den fred, hun så desperat søger.
"I'm just so tired.

So very very tired … and I'm tired of being tired.

I don't have anything left to give.

I just want some peace. Peace from it all.

I'm sorry that it has come this far, but it ends now.

There is nothing that makes sense left anyways.

Forgive me.

Maja"

Maja is sitting in the living room with her eyes pinned to the tv. Trying to shut everything else out. Staring blankly and trying to submerge herself in the show on the screen. Mom is on the couch. Empty bottles stands around her giving off an all too well known scent. To Maja it gives a sickly smell of failure and discouragement.

Mom stirs on the couch and Maja prays in her mind, that she won't wake up. Won't shout. Won't make demands and ask questions. Not like yesterday… and the day before that. Tomorrow is yet another day. A day where nobody is going to speak of the things that are happening.

Killing me softly is a scenario about the story of a young woman and her struggle against an ever constant pressure. The scenario follows Maja through important moments in her life, making her journey towards a fatal point. One player takes the role as Maja and the rest plays the roles of Doubt, Guilt and Shame. The journey leaves Maja to be more and more taken over by her thoughts and the three feelings who never allows her the peace she so desperately seeks.
Spelat på
Priser
Vinnare, Lady
Trivia
Novellescenarie
Programsat som spiltest på CONgratulations20
Skicka in rättelser om den här sidan