Death of a Playwright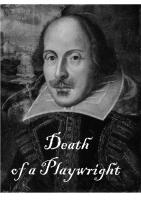 Genre: Drama
Deltagare: 1 SL, 5 spelare
Av
Ladda ned
Beskrivning
Stratford-upon-Avon, 23. april 1616. William Shakespeare, byens stolte søn, ligger ved dødens dør. Hans hustru Anne og deres to døtre sidder i rummet ved siden af og taler lavmælt med lægen, der lige er gået fra sygesengen. Der er sendt efter præsten.

Pludselig flammer et sært skær i rummet. Ud af de tætte skygger træder nogle sælsomme skikkelser: Shakespeares andre børn, ikke undfanget af hans sæd i Annes skød, men af muserne i hans sind. Her står de nu, anført af troldmanden Prospero, for at genopføre hans liv og stå til doms over hans levned.

I spillet vil én spiller tage rollen som Shakespeares jeg, mens de andre hver spiller en af hans karakterer. Men hver karakter er en del af Shakespeare, og reflekterer en facet af deres skaber. Karaktererne skiftes til at sætte scener, og træder ind i rollen som personer fra Shakespeares liv, for på den måde at drive ham i deres retning. Shakespeare selv bliver trukket igennem historien, og må gennemleve både sine triumfer, og sine nederlag.
Stratford-upon-Avon, 23rd of April 1616. William Shakespeare, Stratford's foremost son, is at Death's Door. His wife, Anne, and their two daughters sit next door, conversing quietly with the doctor, having just left the sickroom. The priest has been summoned.

Suddenly, a peculiar glare lights up the room. From thick shadows strange figures appear: Shakespeare's other children, not conceived in by his seed in Anne's womb, but by the muses in his mind. Here they stand, lead by Prospero, the enchanter, to re-enact his life and judge his conduct.

In this game, one player will assume the part of Shakespeare's I, while each of the others will play one of his characters. But each character is a part of Shakespeare, and reflect a facet of his creator. The characters take turns framing scenes, and step into the roles of the people from Shakespeare's life, trying to drive him in their direction. Shakespeare himself will be dragged through the story, and must relive both his triumphs and his defeats.
Spelat på
Skicka in rättelser om den här sidan