Memoirs of a Hitman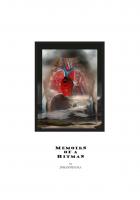 Deltagare: 1 SL, 4 spelare
Av
Ladda ned
Beskrivning
Den gamle præst fanger mine øjne igennem tågen. Jeg ved godt, at han i virkeligheden ikke er der. Han døde for længe siden i et land, der ikke længere findes. Der er gode chancer for, at jeg snart gør ham selskab. Tanken om at jeg skal dø her er surrealistisk. Denne gudsforladte ø fyldt med klipper, is og høje mennesker med navne der ikke kan udtales virker ikke rigtigt som et sted, hvor man dør. Men åbenbart kan selv de bedste tage fejl. Ansigterne af de mennesker jeg har dræbt burde hjemsøge mig, men jeg kan kun tænke på den gamle præst. Og på hvor meget jeg fucking hader Island.

"En Lejemorders Memoirer" er en historie i tre dele om en mands udvikling fra uskyldig ung soldat til hårdkogt lejemorder – og om hans forsøg på at finde tilbage til den tabte, ungdommelige uskyld. Det er en fortælling om at miste sig selv i krigens gru, for til sidst at genfinde det mistede midt i Islands barske og smukke natur. Stemningsmæssigt ligger scenariet tæt på film som The American og Munich.

Spillerne kan forvente et scenarie med fokus på fortællingen, hvor rollerne løbende skifter hænder, og hvor der lægges vægt på fordybelse i historien i stedet for indlevelse i karakteren. En række simple spillerstyrede mekanikker vil sørge for at holde scenariets tema i fokus ved hjælp af biroller og beskrivelser.
The old priest looks at me through the fog. I know he is not real. He died so long ago in a country that no longer exists. Chances are I will be joining him soon. The idea of me dying here is quite surreal. This godforsaken island filled with rocks, ice, and tall people with unpronounceable names do not really strike me as that kind of place. But hell, apparently even the best can be wrong from time to time. The faces of the people I have killed should be hunting me, but all I can think of is that old priest. And how much I fucking hate Iceland.

"Memoirs of a Hitman" is a story in three parts about a man's development from an innocent young soldier into a merciless hitman – and about his attempt to reconnect with that youthful innocence. It is a tale of how a man lost sight of who he was in the midst of the horrors of war, only to rediscover himself in the rugged and beautiful nature of Iceland. In terms of mood, the game is close to movies like The American and Munich.

Players should expect a story-centered game where roles continuously shift hands, and with its emphasis on the story rather than immersion in the characters. That said there will be plenty of emotional scenes and tragic aspects to explore. Simple mechanics work to keep the game focused on the general theme.

Duration of play: 4-5 hours
For four players
Genre: Drama with tragic elements
Type of player: Players who want to tell stories and immerse themselves into the narrative.
Type of game master: Instructor/facilitator rather than co-player. You will be setting the scenes, and keeping the themes and the narrative in check.
Spelat på
Priser
Nominerad, Bedste Roller

Med landskabet som eneste dommer smelter riflen, kuglerne og det islandske fjeld sammen i lejemorderens sind og bliver til levende metaforer i en tåget erindring om krig og uskyldstab. Ting, mennesker og diffuse drømmesyn spiller alle en rolle i mandens totale fortabelse.
Nominerad, Publikumsprisen (Tredjeplads)
Trivia
Skrevet under pseudonymet "Johannes Daa"
Skicka in rättelser om den här sidan