Chaosium Con (2023)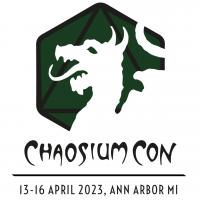 Ort: Eaglecrest Golf Resort and Convention Center, Ann Arbor, MI, Vereinigte Staaten 🗺️
Datum: 13. - 16. April 2023
Über den Kongress:
Back for a Second Year!

Play Games. Make friends. Experience Chaosium like never before.

The second Chaosium Con is happening in Ann Arbor, Michigan in April 2023 and it is a full day longer! Come along for a weekend dripping with cosmic horror, essential runes, swashbuckling adventure, and chivalrous quests!

Chaosium Con will feature a plethora of gaming sessions, LARPs, VIP game sessions with Chaosium creators, seminars and panel discussions, a Chaosium Collectibles Auction, a Great Market featuring all manner of goods produced by Chaosium and our licensee family for purchase, and much more!
Orgas
Korrektionen für diese Seite einschicken