Avanceret gruppeterapi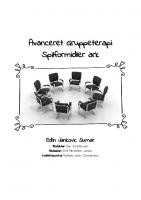 (Alias: Advanced Group Therapy)
Genre: Komedie, Novellescenarie
Teilnehmer: 1 Spielleiter, 5-7 Spieler
Von
Herunterladen
Beschreibung
Alle andre er idioter, og det er kun dig, der har ret.

Der er en pædagog, som er helt usandsynligt dårlig til sit job. Nu skal den pædagog fremvise og forklare sine meget upædagogiske metoder til en gruppe småborgerlige forældre i whiskeybæltet. Det går nok ikke, medmindre altså pædagogen formår at få dem ned på et niveau denne er mere vant til at have at gøre med. Helt urelateret er der en uge senere en topdirektør, som er kommet til at hyre en pædagog som gruppeterapeut. Urelateret, bortset fra at det er samme person.

Avanceret Gruppeterapi er et komedie-scenarie, der handler om at skændes. Det handler om at påtage sig en karikatur af en rolle, som man i stor omgang selv er med til at definere. Det handler om at påpege de andre rollers skavanker og dobbeltmorale, og selv gå så fri som muligt. Det er en omgang absurd mudderkastning, og ingen slipper uden at få en smule skidt på sig.
Everyone else is an idiot and you're the only one who is right.

There is a pedagogue who is incredibly bad at his job. Now the pedagogue will have to present and explain their very un-pedagogical methods to a group of middle class parents in northern Zeeland. That's probably not going to work, unless the pedagogue manages to bring them down to a level they are more used to work with. In completely unrelated news, a week later a CEO of a medium-level multinational corporation hires a pedagogue who usually works with children as a group therapist, by mistake. Unrelated, except for the fact that it's the same exact person.

Advanced Group-Therapy is a comedy-scenario, and it's about arguing. It's about playing a somewhat self-defined character who is in essence a caricature. It's about drawing attention to the flaws and hypocrisies of the other characters, while downplaying the flaws and hypocrisies of your own character. It's a bit of absurd mudslinging, and no one gets away without a bit of dirt on them.
Hier gespielt worden
Extrainformationen
Korrektionen für diese Seite einschicken