Legenderne om Kamelot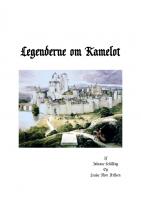 (Alias: Arthuriana, The Legends of Camelot)
Genre: Drama, Fantasy
Teilnehmer: 1 Spielleiter, 5 Spieler
Von
Herunterladen
Beschreibung
Sagnhelte i deres egen tid.

Arthurs unge hoved er tynget af en ny krone, som endnu føles uvant. Men han står ikke alene: Dronning Guinevere, Merlin, Morgana le Fay og sir Lancelot udgør hans nærmeste venner og familie, og hans mest betroede rådgivere. De har alle kæmpet, dedikeret sig til og ofret idealer for at sætte ham på tronen og samle nationen under hans enevælde. Men de svære valg er ikke bag dem. De har forskellige visioner og forskellige lidenskaber.
Spørgsmålet er hvis eftermæle, der vil definere:

Legenderne om Kamelot

Legenderne om Kamelot er et episk fantasyscenarie, der giver spillerne mulighed for sammen at skabe deres eget sagn. Om det ligner noget, vi kender, eller bliver noget helt nyt er op til spillerne.

Hvad du gør i livet giver genlyd i evigheden!

Der bygges på det fælles kendskab til legenden om Kamelot, mens spillerne får lov at udforme og udforske, hvordan sagnfigurerne var som personer, og forme deres egen fortælling.

Scenariet kræver en høj grad af medskabelse fra spillerne med hjælp og støtte fra spilleder og scenariets værktøjer. Scenariets spilles semi-live og med en forkærlighed for teateret.
Heroes of legend in their own time.

The new and unfamiliar crown weighs heavy on Arthur's young head. But he doesn't stand alone. Queen Guinevere, Merlin, Morgana le Fay and sir Lancelot are both his closest friends and family and his most trusted advisors. They have all fought and dedicated themselves to and sacrificed ideals to put him on the throne and unite the nation under his rule. The hard decisions, however, are not all behind them. They have different visions and different passions.

The question remains, whose legacy will define The Legends of Camelot

Legends of Camelot is an epic fantasy-scenario which lets the players collaborate to create their own legend. Whether it resembles something we know or becomes something entirely different is completely up to the players.

What you do in life, echoes in eternity!

The scenario builds on the common knowledge of Camelot, while the players are allowed to shape and explore how the heroes of legend were as people and create their own legend.

The scenario requires a lot of co-creation from the players, aided and supported by the gamemaster and the tools of the scenario. The scenario is played in semi-live and with a nod to the theatrical.
Hier gespielt worden
Korrektionen für diese Seite einschicken