Escape from the past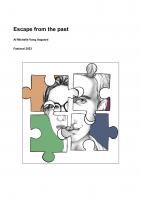 Genre: Drama
Teilnehmer: 1 Spielleiter, 4 Spieler
Von
Herunterladen
Beschreibung
En gruppe af venner er låst inde i et escape room for at have lidt sjovt. Uheldigvis indeholder rummet hemmelighederne fra deres fælles fortid.

Escape from the past fokuserer på den emotionelle spænding der kan opstå, når 4 tidligere tætte venner er fanget i et escape room. Det handler om den realistiske akavede samtale, den overfladiske interaktion, og om de hemmeligheder der kan opstår imellem folk, der bor på samme kollegie.

Det er et kort scenarie med fokus på samspillet imellem karaktererne. Samtidig serveres der escape room vibes ved hjælp af meget enkle fysiske puzzles, der skal løses af karaktererne undervejs.

Det er nødvendigt, at spillere og spilleder har det fint med åben snak om sex, druk og mobning. Både i forhold til egen rolle og andres roller.

Drama
Venskab
Hemmeligheder

Spillertype: Du skal som spiller være parat til at gå "all in" på karakterspil og improvisation. Som spiller skal du desuden kunne læse informationer samtidig med at der foregår samtaler omkring dig, og derefter bruge informationerne i dit karakterspil.

Spilledertype: I dette scenarie er spillederen nogle gange passiv facilitator for spillet. Andre gange er spillederen en medspiller i scenariet. Generelt sætter spilleder scenerne, og sætter puzzles op. Det er en fordel af have sans for timing, og du står for spændingsopbygning undervejs ved hjælp af virkemidler.
A group of friends are locked in an escape room to have fun. Unfortunately the room contains the secrets from their common past.

Escape from the past focuses on the emotional tension which accompanies 4 formerly close friends as they are forced to cooperate to get out of an escape room. The scenario is set in a realistic world and concentrates on the awkward conversations and superficial interactions of friends who once lived at the same hall of residence.

The scenario is quite short and there will be a lot of character driven conversation and problem solving. During the escape room experience there will be some simple physical puzzles for the characters to solve in game.

It will be necessary for both player and game master to be able to talk about topics as casual sex, binge drinking and bullying from a character perspective.

Drama
Friendship
Secrets

Player types: In this scenario you will have to improvise and be in character. At the same time, you have to be able to read cards and process information on your character during play. The cards will be translated into English for Fastaval.

Gamemaster type: During this scenario you will sometimes be a passive facilitator and other times be in character. You will be the one who introduces scenes and sets up the physical puzzles. A sense of timing and how to create tension is an advantage.
Hier gespielt worden
Korrektionen für diese Seite einschicken