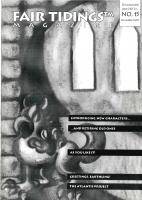 15 - November 1995
Kolofon
Indhold
Side 1
Front page
Front page
Birgitte Vince Heuschkel
Illustrator
Side 4
Origins


Introducing new characters to old parties can be a dubious affair

Side 8
... and Sheryl lived happily ever after


Retiring characters from old parties can be quite a challenge, too.

Side 9
DELPHI downtown
Side 12
As you like it!


Mutie's Liberation Front!

Side 16
Greetings, Earthling. We come in peace. Surrender or be annihilated.


Humans and Mrrshans - a comparative look on evolution...

Side 20
The Atlantis project


A new Danish BBS for gamers of all kinds!



Indsend rettelser for denne side