Nästa station: Kymlinge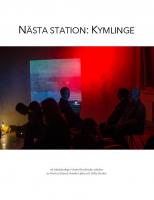 (AKA: Next stop: Kymlinge)
System: LARP

Af
Prolog (2012), Culturen, Västerås, Sverige
Prolog (2013), Västerås, Sverige
Prolog (2015), Culturen, Västerås, Sverige
Prolog (2017), Culturen, Västerås, Sverige
Prolog (2019), Culturen, Västerås, Sverige
Download
Foromtale
Ett tejplajv i UnderStockholms regi. Ett möte mellan det vardagliga och det obegripliga. Scenen är en tågresa en dag som vilken som helst, fokus är tunga beslut och rannsakan, valen gäller plötsligt liv och död. Alla roller är färdigskrivna, ingen
utrustning behövs.

❤ Deltagarna får lajva kring svåra livsfrågor och samtidigt göra en resa i gränslandet mellan över och under Stockholm.
It's an ordinary day. You are on the train on your way in to Stockholm, the scenery swooshes past outside the window. Then something happens, it is sudden and yet you feel like it has happened before. It has always happened.

Together with the other passengers on the train you will have to face your destiny and make some hard and soul defining decisions. Time is eternal, yet running out. Can you define it's value?
Spillet på
Indsend rettelser for denne side