Making Silence/Breaking Silence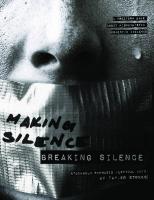 Deltagere: 4-6 spillere
Af
Foromtale
Abuse – Gender-violence – Misogyny

Making Silence/Breaking Silence is a freeform game about domestic violence. This game intends to demonstrate the risks and challenges a victim of domestic violence faces while considering leaving their abuser. This game follows a long-term committed intimate relationship as the intensity of abuse mounts.

More specifically, this scenario is about myisogynistic emotional, physical, and sexual violence. Though this scenario is framed around a heterosexual married couple, mysogynistic violence is also found in non-heterosexual relationships and in non-married relationships. It is up to each playgroup to decide the genders of the characters based on what is most engaging to the players and relevant to their life experiences, and to make any adaptations they feel necessary. Regardless, please draw from your own experiences rather than relying on stereotypes. Keep in mind that this game is always about violence based in misogyny, which is the hatred and fear of women, femaleness, and femininity.

Emotional, physical, and sexual violence will be represented in abstraction through various techniques. Additionally, play will almost certainly reference acts and threats of assault, coercion, and manipulation, and may go so far as to reference femicide and rape.

These are extremely serious subjects. It is of paramount importance that all players are fully informed before play commences. Please proceed with great care and respect for the people playing this scenario and the lived experiences of those who have endured domestic abuse and gender violence.

Making Silence/Breaking Silence was written and designed by a former domestic violence interventionalist.

Bio:
Tayler Stokes is a former social worker and domestic violence interventionist. Tayler is now a community organizer for Games to Gather, a positive action gaming non-profit in Portland, Oregon, United States that hosts events for the play and development of games of all sorts, and policy writer for the Living Games Conference. He is also an advocate for responsible masculinity, craft beer aficionado, and cat dad.
Spillet på
Indsend rettelser for denne side