The Temple of Dancing Sand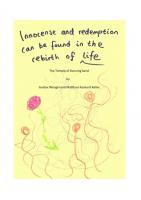 (AKA: The Temple of Drifting Sand)
Deltagere: 5-15 spillere
Af
Download
Foromtale
If you reach the edge of the ghost forest you´ll find a landscape of heavy dunes. As far as the eye can see there will be nothing but sand and wind. The vast desert appears desolate and, due to its wild sandstorms, unsuitable for life. But those who have an eye for the ways of the winds will see a marvelous and diverse world. When the wind breathes life into the sand, it creates eternally changeable creatures, dancing throughout the desert. Of these, the most magnificent were those who merged and became the temple of dancing sand.

Through dance and non-verbal interactions, the scenario tells the story of the dust devils, that decides to build a temple in their search for meaning.

Dancing experience is not necessary. The goal is not to make an elegant ballet, but to explore storytelling through movement.
Spillet på
Afviklinger derudover 🗺️
| | | |
| --- | --- | --- |
| 21. marts 2018 | 🗺️ | Rosenteatret, Aarhus, Danmark |
Trivia
Indsend rettelser for denne side