Winson Green Prison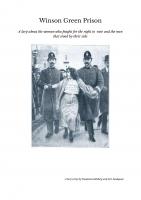 System: Blackbox Larp
Genre: Drama
Deltagere: 30 spillere
Af
Blackbox Cph VI (2016), Huset-KBH, København, Danmark
The Smoke (2017), The Nursery, London, Storbritannien
Prolog (2017), Culturen, Västerås, Sverige
Tallinn International Larp Festival (2018), Estonian Dance Agency, Tallinn, Estland
Grenselandet (2018), Slurpen, Oslo, Norge
Download
Foromtale
"We are here, not because we are law-breakers, we are here in our efforts to become law-makers" – Emmeline Pankhurst

A larp about the Suffragette movement in United Kingdom during the early 20th century. The story revolves around both the women fighting for their right to vote and the men who in different ways are standing by their sides. Each player will be a part of a couple consisting of a man and a woman with some kind of close relationship and during the game we will explore subjects such as political ideals and struggle, oppression, liberation, relationships, family values, fear and love.
Ett lajv om Suffragettrörelsen i Storbritannien under det tidiga 1900-talet. Historien kretsar kring kvinnorna som kämpade för sin rösträtt och männen som på olika sätt stod vid deras sida. Vad händer när politiken tar sig in i privatlivet och när det privata blir politiskt? Hur mycket är friheten värd? Hur mycket är kärleken värd?

❤ Spelarna får utforska ämnen som politisk kamp, förtryck, frigörelse, familj, värderingar, rädsla och kärlek.
Spillet på
Indsend rettelser for denne side