Udødelighedens pris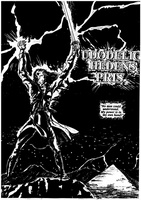 System: Basic Roleplaying
Genre: Action, Drama, Intrige

Af
Foromtale
- from a CINESCAPE interview, April 96:

The new epic, WHO WANTS TO LIVE FOREVER, has under the skillful direction of Ridley Scott become the ultimate prequel to the 1985 cult success, HIGHLANDER.

Scott: "Basically, we just took all the stuff that made the first movie good and combined it with a dramatic story that goes even deeper into the psychological aspects of being an Immortal. We'll finally begin to explore some of the endless possibilities when all of known history is at your disposal. The story'sabout how some of those who went before MacLeod "struggled to reach the time of the Gathering", but now it's the secret Origin of all Immortals they're after. However, each of the characters is actually a whole story in his or herself.

There is Subotai, who was once a general of Djengis Khan. He loathes the arrogance of the Western world and gives us his own unique perspective on European society. We have the ruthless Goth, who's got a lot more substance than just being the "bad guy". We also have the Tiberius, the last Roman. After 500 years of service, his identity was shattered along with Rome, and I think Rutger Hauer portrays this extremely well. Charles Dance is also magnificently arrogant as Janus van Horne - a philosopher and scientist who has had long debates with Rousseau and Newton. Finally there's El Carun, who's very somber about his immortality, but stays around out of duty. And BoAnn, who wasn't able to cope with long life at all, which has made her crazy and mean. In many ways she's a victim."
Spillet på
Priser
Nomineret, Bedste Scenarie
Nomineret, Bedste Spilpersoner
Nævnt i følgende artikler
Indsend rettelser for denne side