Be My Valentine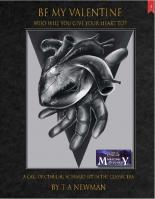 System: Call of Cthulhu
Deltagere: 1 GM, 4 spillere
Af
Foromtale
Join us at Gannet's restaurant for a romantic evening of 'speed dating!' You can eat, drink, and dance your way to an evening full of your heart's desire. Hungry for more? Don't you worry. With a guest list to brag about we will be playing your heart strings and making your blood pump with the excitement of true love. In a race against time the investigators desperately try find the source of the love spell gone horribly wrong. Having free reign to run around Holmouth town, a key location introduced in The Prisoner's Dilemma and Secret Santa, the investigators get to explore some of the
darker elements of town whilst they try unravel the mystery . Will your investigators listen to their head or their heart?

Content Warnings: this scenario contains themes of horror related with Valentine's Day, body horror, race against time, self physical mutilation, and speed dating.
Spillet på
Links
Indsend rettelser for denne side