Silent Night, Horrible Night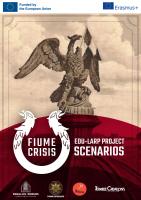 (AKA: Wary Christmas)
System: LARP
Deltagere: 8 spillere
Arrangeret af
Fiume Crisis
Af
Knutpunkt (2022), Linköping Concert and Congress Hall, Linköping, Sverige
The Smoke (2023), Theatre Delicatessen, London, Storbritannien
Download
Foromtale
Silent Night, Horrible Night is a chamber larp about a Croatian and an Italian family during the turmoils at the end of WW1 and D'Annunzio's occupation of Fiume. The scenario is divided into three acts in which the characters gather for the Christmas Eve party of 1918, 1919 and 1920.

Silent Night, Horrible Night aims to investigate how easy or terribly hard it can be to change one's political views influenced by various factors.
Wary Christmas is a larp about family, history, politics and cultural identity, with some Christmas songs and the scent of apple and cinnamon in the background."
Spillet på
Indsend rettelser for denne side