The Gnome Awakens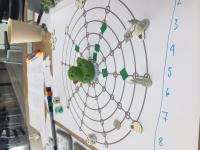 Genre: Gyser

Af
Foromtale
Cottage Core Defence Board Game

Gran daddy gnome has vanished.

In his absence, the sinister monsters has arrived at the local parking lot and they will rest until they have picnicked at the perfect spot.

With the support of the gnomish forest fighting force. You and your allies lead a brave resistance. With help from forest critters, magic and traps. You will confuse and forcible move the Monsters to spots in the forest so they wont find the hidden town of Gnomoha.
Spillet på
Priser
Vinder, Best Board Game
Links
Indsend rettelser for denne side