Intercon V: Voices! (2024)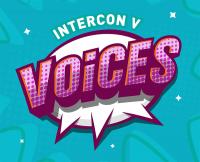 Sted: Crowne Plaza Providence-Warwick, USA
Dato: 1. - 4. marts 2024
Om kongressen:
Welcome to Intercon V, the premiere multi-genre Live Action Role Playing (LARP) convention in the world.

Intercon V is the twenty-fifth Intercon in the greater Boston area, and we're so excited for this year! We can do or be anything with larp. If you love to larp, or you've always wanted to try Larping, then we welcome you to come join us at Intercon V. Come join the Intercon Community.

Voices are the medium of how we communicate and connect with each other: our ideas, our perspectives, and our identity. In LARPing, we give Voice to what we believe in and the possibilities of what was, what is, and what could be. We want to empower Voices to those who are often Voiceless in our current world. Having a Voice is to have agency and truly listening is how we can help lift each other and our community up. Let's aim to join our Voices together for Intercon V!

Albert Lin, Conchair, Intercon V

I hope you all find love, kindness, and compassion towards yourself and to others. Happy Larping!
Vi har ikke haft noget program for denne kongres, så oversigten over spil er blot baseret på eksterne referencer, hukommelse, tidlige rygter, etc., og er derfor måske ikke komplet.
Har du en ændring, eller ligger du inde med et program, så send os en rettelse.
Arrangører
Links
Indsend rettelser for denne side