AireCon 1 (2016)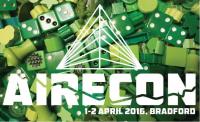 Sted: Jubilee Centre, Bradford, Storbritannien 🗺️
Dato: 1. - 2. april 2016
Om kongressen:
AireCon is an open board game event in Yorkshire.
Now in it's second year, AireCon started in Guiseley, Leeds (in the Aire Valley) and has now moved to bigger and better premesis in Bradford.

Games ________________
Massive Board Game Library - Travelling Man are providing their OPS Board Game library for the event, the games are available to borrow, just leave a £10 returnable deposit and borrow as many games as you like through the weekend.
If you are interested in running an event or a longer game, we may be able to provide a space for that, please contact us on aireconuk@gmail.com
______________________
Friday - £3.50
Saturday - £7
Both days - £9
Curry - £8 **Must be purchased by 25th March**
NO ADMIN FEE!
______________________
Location
Jubilee Centre, Jermyn St, Bradford BD1 4EJ
Free parking
Disabled access and toilets
______________________
Food and drink
Saturday night curry - Just add the curry ticket on to your purchase to get a curry on Saturday night (served 6-8pm), just £8 for a huge portion of veggie/chicken curry with rice, naan and a samosa.
Snacks and soft drinks will be available to purchase throughout the event.
There are plenty of food outlets at the nearby Broadway Shopping Centre as well as a Sainsbury's.
You can also bring your own food, drink and alcohol.
Vi har ikke haft noget program for denne kongres, så oversigten over spil er blot baseret på eksterne referencer, hukommelse, tidlige rygter, etc., og er derfor måske ikke komplet.
Har du en ændring, eller ligger du inde med et program, så send os en rettelse.
Arrangører
Indsend rettelser for denne side