Queen Bees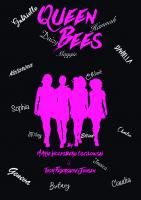 Genre: Komedie
Teilnehmer: 1 Spielleiter, 5 Spieler
Von
Herunterladen
Beschreibung
Intet er vigtigere end hvem der bliver årets prom queen. Intriger og drama får elimineret kandidaterne en efter en, men hvis du selv er røget ud, bliver det kun desto vigtigere, at din rival ikke ender på scenen.

Stikord: High school-komedie – Ensembledrama – Intrige

"Hvad er der så fedt ved Cæsar? Brutus er præcis lige så nuttet og pæn som Cæsar. Brutus er lige så klog som Cæsar, og folk kan lide Brutus og Cæsar lige godt. Hvornår blev det i orden for en person at være alles chef? Vi burde bare totalt dolke Cæsar!"
-Anonym, BFF til en prom queen-kandidat

Du er hermed inviteret med til Prom på John Hughes High.

Frem mod prom skal vi sammen finde en værdig vinder af tiaraen. I år har vi ændret reglerne, så alle har en mulighed for at forvandle sig fra en grim ælling til en smuk svane.

Queen Bees er en high school-komedie, hvor vi følger femten 17-årige teenagepiger. De er medlem af de fem vigtigste kliker på skolen og vil alle gerne have, at kronen tilfalder netop deres gruppe. Det bliver en kamp fyldt med latter, tårer og rygter. Bliver det ikke en selv der vinder, er det bare endnu vigtigere, hvem der får kronen.

I Queen Bees skal du som spiller have det sjovt, mens rollerne udmanøvrerer hinanden med rygter. Alle spillere starter med tre roller, for til sidst kun at have en prom queen-kandidat tilbage, der kan vinde tiaraen.

Det er fokus på at skabe en fælles fortælling, hvor spillerne med hjælp fra forskellige virkemidler selv skaber historien om deres vej til måske at blive prom queen. Der er både plads til en fortælling, hvor den ledeste pige vinder, den klassiske fortælling og underdog-fortællingen, hvor den grimme ælling vinder. Uanset hvad spillerne beslutter, handler Queen Bees om store egoer, intriger, venskaber og teenage-drama for rollerne, imens det er sjovt og underholdende for spillerne. For rollerne er det alvor, men der er som spiller plads til at grine af rollernes skæbne.

Om forfatterne:
Thor er en del af forfatterkollektivet Jesu Bar Mitzvah, og dette er hans femte scenarie til Fastaval. Hans største ønske har i flere år været at blive prom queen, men han har indset, at det ikke kommer til at ske. I stedet har han set Mean Girls på repeat de sidste mange år.

Marie er mere en elevrådstype end en prom queen. Det til trods har intet gjort hende gladere end at købe 25 tiaraer ind til afviklingerne af Queen Bees, som er hendes femte scenarie til Fastaval.
Nothing is more important than who becomes Prom Queen. Intrigues and drama eliminate the candidates one by one. Go for the crown yourself or at least prevent your rival from getting it!

Keywords: High school-comedy – Ensemble drama – Intrique

"What is so awesome about Caesar? Brutus is just as cute as Caesar. Brutus is just as smart as Caesar, and people totally like Brutus just as much as they like Caesar, and when did it become okay for one person to be the boss of everybody? We should totally just stab Caesar!"
-Anonymous, BFF to a Prom queen candidate

You are cordial invited to the Prom on John Hughes High.

Towards Prom we need to find a worthy winner of the tiara. This year we have changed the rules, so all of you have the possibility to change from an ugly duckling to a beautiful swan.

Queen Bees is a high school-comedy in which you play fifteen 17-year old teenage girls . They are all members of the five most important cliques, and they all want someone from their group to be crowned prom queen. It's going to be a struggle full of laughter, tears and rumors. If you can't get the tiara, then it's even more important who doesn't get it.

In Queen Bees you as a player is going to have fun, while the characters tries to out-manoeuvre each other with rumors. All players start with three roles, and in the end each player will only have one left, and there can only be one Prom queen who wears the tiara.

There is both room for a story where the mean girl wins, the classical high school comedy story and even the underdog story, where the most unlikely wins. No matter what the players decide Queen Bees is all about big egos, intrigue, friendship and teenage drama for the roles, while its fun and entertaining for the players. For the roles its extremely serious, but there is room for the players to laugh at the roles short comings and faith.

About the authors:
This is Thor's fifth contribution to Fastaval. His biggest wish is to be the Prom queen, but has realised it's not going to happen. Instead he has been watching Mean Girls on repeat the last several years.

Marie is more a student council type, than a Prom queen. Despite this, nothing has made her happier than buying 25 tiaras for the runs of Queen Bees, which is her fifth contribution to Fastaval.
Hier gespielt worden
Preise
Nominiert, Bedste Virkemidler

På John Hughes' High School er der kun én ting, der tæller dette semester, og det er at vinde æren af at være årets prom queen, mens rygterne flyver mellem klikerne. Med rygtesten og tiara giver Queen Bees deltagerne blod på tanden til ikke at holde igen, når der skal findes på skarpe oneliners for at sikre at titlen tages hjem.

At John Hughes' High School there is only one thing that counts this semester: Winning the honourable prom queen title while rumours fly on winged feet between the cliques. With rumour beads and tiara, Queen Bees gives the players a taste for blood and nothing is held back when the players come up with sharp one-liners to secure the title.
Nominiert, Bedste Formidling

Fra det første Q i pink er sat til den sidste håndtegnede stemmeseddel er man ikke i tvivl om at Queen Bees ved, hvor det vil hen, og hvordan det vil se ud. Mens man let og overskueligt bliver ført igennem genre, setting og scener bliver man forkælet med en kavalkade af smukke detaljer, der gør læseoplevelsen let og inspirerende og klæder spilleder og spillere på til prom.

From the first pink Q is set till the last hand drawn voting ballot, there is no doubt that Queen Bees knows where it wants to go and how it wants to look. While leading you through the genre, setting and scenes in an easy and well defined manner, you are also treated to a cavalcade of beautiful details. The result is an inspiring reading experience that gets both game master and participant ready for the pre prom fight.
Nominiert, Deltagernes Pris (Andenplads)
Korrektionen für diese Seite einschicken