En dag på kontoret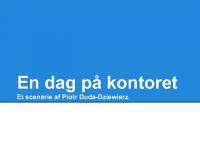 (Alias: A Day at the Office)
Genre: Drama, Intrige, Komedie
Teilnehmer: 1 Spielleiter, 5 Spieler
Von
Herunterladen
Beschreibung
Du drejer fra den endeløse bilkø, og kører ind på parkeringspladsen foran den antracitgrå kontorbygning. Du låser dig ind med nøglekortet, og tager elevatoren op til kontoret. Endnu en mandag. Endnu en uge på kontoret. Da du kommer ind i storrumskontoret, kan du mærke at noget ikke er som det plejer. Stemningen er hektisk, med hvisken i krogene og nervøse blikke. Der er noget i gære. Kontorrokade? Fyringsrunde? Problemer med kunder? Du sukker, og går ned mod dit skrivebord. Det tegner til at blive en interessant dag. Forbandet.

"En dag på kontoret" handler om en sammenbragt projektgruppe i en stor dansk IT-virksomhed. Det handler om deadlines, møder, workshops og teambuilding. Det handler om at tage sig godt ud over for chefen, undgå at hænge på de dårlige opgaver, og ikke at få skylden for fejl (uagtet hvem der har begået dem). Kollegaerne er ikke venner – i bedste fald kan de være allierede, i værste fald trusler. I den skånselsløse IT-verden er der vindere og tabere, og alle ved hvad der sker med tabere. Det handler om at overleve i kontorjunglen. En dag ad gangen.

Viden om IT-miljøet og kontorliv er ikke nødvendigt.
Welcome to the office. A world filled with computers, anonymous meeting rooms, post-its and broken dreams. A place where ambition comes to die, and where apathy rules with a lazy hand.

5 employees in a medium sized IT company are stuck in their careers, but something is about to happen.

A new project is stirring and threatens to upset the old office. The battle is about to begin. Will the employees overcome the apathy and stand up to the challenge? And will they stand together or separately?

The stakes are great. After the project a much more dangerous beast lurks, its many unholy names whispered softly on the fluorescent-lit hallways: competence analysis, outsourcing, downsizing - and the most vulgar of all: layoffs.

So much is at stake, for even though life at the office can be harsh, it's nothing compared to the despair you find in the desert of unemployment, where caseworkers torture the damned with their horrible paragraph whips.

Shiver at the thought, dear reader, and come inside.

The office awaits.
Hier gespielt worden
Korrektionen für diese Seite einschicken