Wishing Well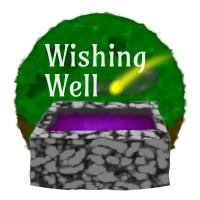 System: LARP
Teilnehmer: 9 Spieler
Von
Summer Larpin' (2022), Boxboro, Massachusetts, Vereinigte Staaten
Intercon U: Ultraviolet (2023), Crowne Plaza, Warwick, Rhode Island, Vereinigte Staaten
Herunterladen
Beschreibung
You have journeyed long and far to find the fabled well said to grant wishes once every hundred years. Your carpet gave out back at the last mountain, and you're almost out of sandwiches, but you made it! Except now, the wishing well is broken. You and the talking squirrel agree: this is a most improper way for a quest to end! What's a motley assortment of wishers to do?

_Wishing Well_ is a light-hearted LARP loosely inspired by Patricia C. Wrede's _Enchanted Forest Chronicles_. There will be disguises, secret societies, and the silly and bizarre folk you might expect to find in the Enchanted Forest. Knowledge of the books is not expected, necessary, or useful, though hopefully fans will appreciate the flavor.

This LARP is in the style of _Triple Blind_ by Mike Young: each character is made up of three separate parts, randomly combined to create a different selection of strange and wondrous characters for each run. (Unlike _Triple Blind_, but like most LARPs, we will give out character sheets in advance.) All ages are welcome to play.
Hier gespielt worden
Korrektionen für diese Seite einschicken