Roll them dice!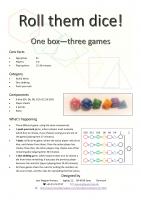 Teilnehmer: 2-4 Spieler
Von
Beschreibung
One box - three games

Core facts
* Age group: 8+
* Players: 2-4
* Playing time: 15-30 minutes
Category
* Roll & Write
* Dice drafting
* Push-your-luck
Components
* 6 dice (D4, D6, D8, D10, D12 & D20)
* Player sheets
* 4 pencils
* Rules
What's happening
* Three different game, using the same components.
* A push-your-luck game, where players must evaluate which dice to choose, if you chooses wrong you are out of the game (playing time 15 minutes).
* A basic roll & write game, where the active player rolls all six dice, and choose from those. Once the active player has choose three dice, the other players may choose one of the remaining dice (playing time 30 minutes).
* A dice drafting game, where players takes turn to choose a die from those remaining. If you pass the previous player becomes the new first player (playing time 20-30 minutes).
* All three games share the rules for writing the numbers on the score sheet, and the rules for calculating the final scores.
Hier gespielt worden
Korrektionen für diese Seite einschicken