Create Jam 2023 - Seven Seas Spring Edition (2023)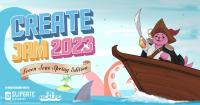 Ort: CREATE Aalborg University, Dänemark
Datum: 14. - 16. April 2023
Über den Kongress:
⛵ Shiver me timbers, laddie! As the captain of this fine vessel, I command ye to set sail for prosperous treasures ahead! Whether it's the beauty of the vast blue ocean, the thrill of an intense pirate battle, or the unspoken horrors that lie beneath the surface... best you be prepared for anything! Oh, and try to keep the seasickness to a minimum, will ya? YAARRRGH!! ⛵
X marked the spot, the chest has been dug up and inside waaassss... The theme reveal for Create Jam Spring 2023!
🌊 Seven Seas!!! 🌊
🦀 Are you landlubbers as ready to dive into the jam as we are?! 🦀
🦜(NOTE: The date currently on this event is a placeholder! The date reveal is coming soon - keep your eyepatch-less eye open!)🦜
Wir haben für diesen Kongress kein Programm gehabt, daher ist die Übersicht über Spiele nur auf externen Referenzen, Gedächtnis, frühen Gerüchten usw basierend und deswegen vielleicht nicht komplett. uns bitte eine Korrektion schicken.
Orgas
Links
Korrektionen für diese Seite einschicken