Drømmevandrene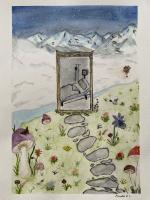 (Alias: The Dream Wanderers)
Von
Beschreibung
Efter et biluheld bliver fem unge mennesker bragt på hospitalet. Mens de fysisk ligger i hospitalssengene, vandrer deres sind gennem drømmenes verden i et forsøg på at finde en måde at vågne op.

Fem unge mennesker i en vennegruppe er endt i et biluheld, efter at have drukket sig fulde til en fest. De finder nu sig selv i drømmenes verden, et finurligt sted der både er fyldt med fantasi, skønhed og mareridt.

De prøver at finde en måde at vågne op, vende tilbage til virkeligheden, men det er ikke bare ligetil – og de har måske ikke særlig lang tid tilbage. De må konfrontere sig selv og hinanden, ty til problemløsning og samarbejde.

Drømmevandrerne handler om skyld, sorg og interne relationer. Karaktererne er socialrealistiske, men de er blevet smidt ind i en anderledes og lunefuld verden.

Det er et bittersødt scenarie, med en slutning der påvirkes af spillerne og scener der både kan være mørke, men også eventyrlige.

Scenariet hviler på karakterspil og problemløsning, men har også fortælleelementer, som giver spillerne lov til at have indflydelse på visse dele af spillet.
Five young people are brought to the hospital after a car crash. While their bodies lie in hospital beds, their minds are lost in the realm of dreams, trying to find their way back to reality.

Five young people from the same friend group were in a car crash after they had been drinking at a party. They now find themselves in the realm of dreams, a peculiar place filled with fantasy, beauty and nightmares.

They're trying to find a way to wake up, find a way back to reality, but it's not easy – and they may not have much time. They need to confront themselves and each other, resort to problem solving and teamwork.

The Dream Wanderers is about guilt, sorrow and relationships. The characters are socially realistic, but they've been thrown into a different and whimsical world.

It's a bittersweet scenario, with an ending affected by player choices, and scenes that can be both dark, but adventurous too.

The scenario rests on character roleplay and problem-solving but involves storytelling elements too, which are going to give the players an influence on some aspects of the game.


Hier gespielt worden
Korrektionen für diese Seite einschicken