Roadtrip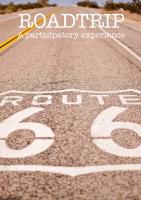 System: Live
Deltagere: 45 spillere
Arrangeret af:
Dziobak Larp Studios & Image Nation
Af:
Download:
Foromtale:
Travel across America with a rock band

Experience being a band member, a roadie, a groupie, a journalist or another part of the entourage for a week, as we travel down Route 66.

This is not a movie. This is a live action role-play adventure.
Spillet på:
Derudover afviklet:
10. - 16. juli 2017, fra Chicago til Santa Monica, USA

Links:
Scenariets hjemmeside: http://www.roadtriplarp.com/
Videoteaser for scenariet: https://www.youtube.com/watch?v=1h26wCFNFpA

Indsend rettelser for denne side